Octopia Fulfillment continues with its expansion plans, and it is now fully operating in Spain
Octopia Fulfillment, the rapidly growing e-commerce logistics service provider in France and Europe, is up and running with active warehouses in Spain, further strengthening the company's logistics network in the Iberian region.
This development and entry into the Spanish market, is the latest step in Octopia's European and International expansion, along with the forthcoming launch of UK and Germany. And enables Octopia's community of over 3000 sellers existing, to expand their sales by accessing storage and delivery options in these new markets.
Spain, the only European country where e-commerce grew in the first quarter of 2022
A growing market
According to Salesforce Shopping Index's[1] latest data published, while online commerce revenues decreased by 3% globally in the first quarter of 2022, Spain was the only European country, and one of the few countries in the world, to grow in this field by 6% compared to the same period in 2021.[2]
Entering Spain, one of the largest e-commerce markets, is a major step and opportunity for better coverage in Europe and the Iberian region, strengthening the reach and positioning, with Octopia Fulfillment's multiple warehouses in France.
Future e-commerce trends in Spain
According to a recent Vepee-IESE survey[3], these are some of the top ecommerce trends in Spain, according to online consumers:
1. Marketplaces: variety of brands and products in a single place
Variety of product offerings and competitive prices, ranked among the most valued advantages of marketplaces.
Percentage of online consumers who perceive each of the following as the top 3 advantages of multi-brand e-commerce vs. specific online or physical stores:
58.4% consumers value a greater variety of products
50.7% consumers value lower and more affordable prices
49.1% consumers value the variety of product categories
2. Price and delivery flexibility can condition the purchase
Price and delivery flexibility can be a determining factor in the purchase. Percentage and level of acceptance towards the delivery of the product:
51.8% respond that if there are delivery costs, they do not buy.
39.5% If the delivery time is not specified before payment, they do not buy
14.8% responded that choosing among multiple delivery options (price and delivery time) is important
3. Simplified payment: frequent shoppers are more receptive to digital wallets and banks
Credit and debit cards are by far the preferred payment option, followed in second place by digital wallets. Among the payment methods preferred by Spaniards when making an online purchase, the followings stand out:
83.4% credit card
39.1% digital wallets
Among the main reasons or drivers for selecting these methods include convenience and speed, and security and data protection.
PayPal is the most popular digital wallet among the Spanish population. However, some new players are entering the market: Google Pay, Apple Pay and Amazon Pay. Their market uptake is constantly growing.[4]
4. Sustainability, a growing concern among consumers
More than 50% of respondents consider it useful to have: 1. Social and Environmental Information 2. More sustainable purchasing options, and 3. A circular economy option (second hand, leasing, slow delivery to reduce carbon emissions…).
Octopia's new facilities allow their sellers to store goods closer to their users in Spain, thus avoiding long cross-border shipments. In addition, Octopia Fulfillment warehouses in Spain are committed to the environment and have implemented several initiatives such as: energy-efficient warehouses, eco-friendly packaging methods, among others, to minimize our impact on the environment.
Expanding your online business and start selling in Spain
If you are based in the UK, France or elsewhere in Europe and looking to expand your business in Spain? Octopia Fulfillment, your international logistics partner.
Externalizing your logistics and ensuring customers' satisfaction.
Multiple delivery options – depending on the country of storage—and the possibility to deliver to over 20 European countries.
Octopia Fulfillment in Spain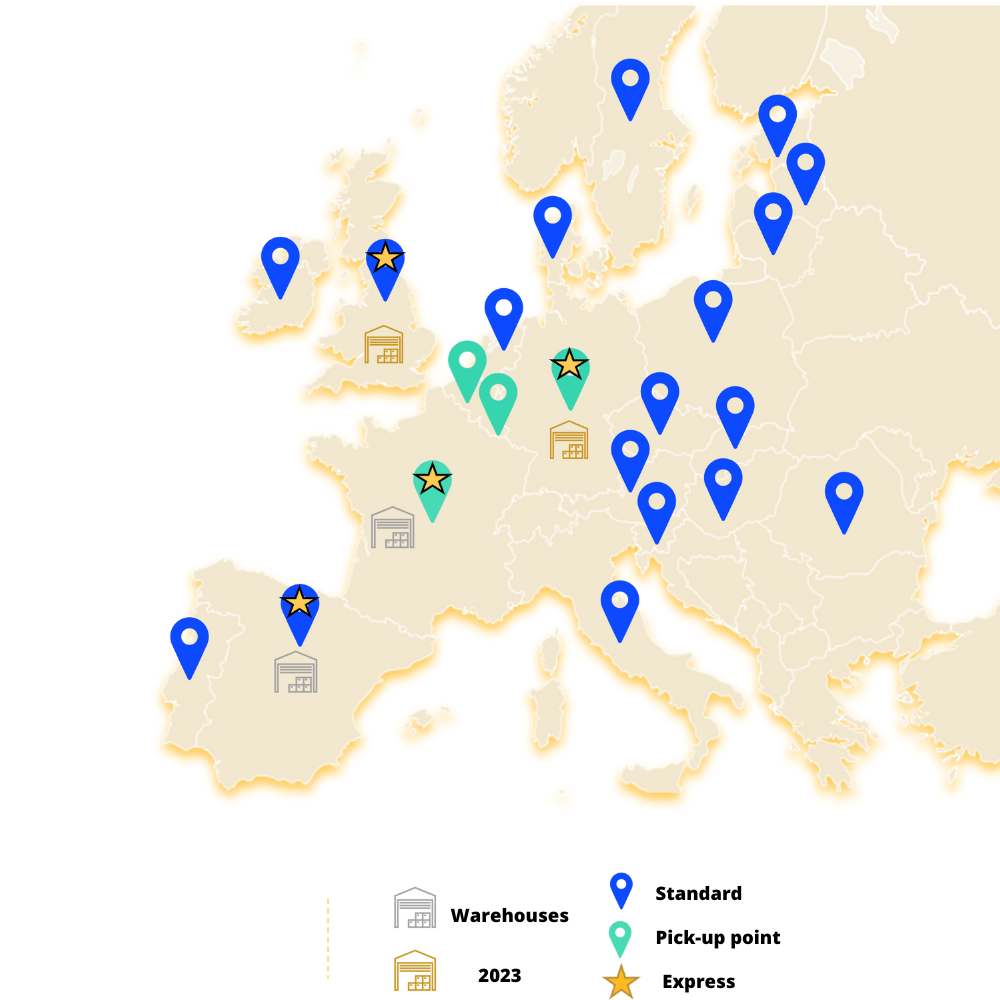 1–2-day delivery (90% of orders are delivered in less than 24 hours)
On-site local fulfillment teams available to support when needed
Local carrier partners and highly competitive delivery costs (carriers partners)
Real time integration between online shop and warehouse so that order management, stock synchronization of each reference is done automatically
Enhancing e-commerce sellers and marketplace operators
Octopia Fulfillment provides a full solution including everything from logistics services, inventory management, real-time order tracking, and an integration to sales channels such as Shopify, Prestashop, and more, allowing businesses to connect automatically to their online shops and marketplaces.
More than 600,000 m² of warehouse space
Shipments to over 20 European countries
Real-time stock management from a single platform
Continuous support at all stages by a team of experts
Advantageous and competitive market rates
For Octopia the Spanish market is extremely important, having a warehouse in Spain is vital for us and our vendors.
Benjamin Hamilton, Director at Octopia Fulfillment
[1] Salesforce Shopping Index's
[2] E-commerce Spain , Statista, 2022
[3] EI Estudio Veepee-IESE sobre el futuro del ecommerce
[4] Insights Report Spain