Vendors play a major role in the success of your marketplace, by contributing to the quality and variety of your range, the competitiveness of prices, and customer satisfaction, especially by ensuring that products are delivered in the best conditions. However, recruiting them can often prove to be a serious challenge.
There are two strategies you can use to attract sellers: automatic or "inbound" recruiting, when the seller reaches out to the marketplace, and proactive or "outbound" recruiting, when the marketplace contacts the seller. In the first instance, sellers spontaneously gravitate to your marketplace, thanks to your reputation or partnerships with other sites (blogs, flow aggregators, etc.) that recommend your platform.
Most often, they sign up autonomously through a fluid onboarding process, using a specific interface. However, though you may save money and time, you have little control over the quantity and quality of registered vendors. If you wish to better control these criteria, opt for proactive recruiting, where it is up to you to identify and prospect the sellers yourself. On the other hand, this method is more time-consuming and costly.
Are you wondering which strategy you should use to source qualified vendors that match your brand image? Follow our advice in this article to tackle each stage in proactive recruiting.
Stage 1: Identifying vendors
Define your need
Before looking for new sellers, ask yourself what your marketplace needs in terms of:
Product categories
Quality
Brands
Price level
Etc.
To do this, start with your customers' needs and your brand positioning. For example, what products are the most sought after by your customers? Are some of them missing from your catalog? In this way, you can identify sellers that are likely to respond to these needs and define your strategy.
Are you looking for high-performing vendors in terms of gross merchandise volume or consumer sales units? Vendors with extremely competitive pricing? Vendors with fast delivery times? Vendors with top products on other sites?
Then, establish your seller selection criteria:
Direct brands or resellers
Location
Customer ratings and reviews
Number of product references
Etc.
Be attentive to the capabilities of your vendors so as not to damage your quality of service. They must be able to easily absorb the incoming flow of new orders from your marketplace, respect delivery times, offer order tracking, answer customer questions and provide good customer service.
Find vendors
Once you have defined your selection criteria, you can search for sellers that meet your needs.
Gather all relevant information (vendor name, country of origin, ranges and products, price positioning, etc.). You will need to devote tools and human resources to this. You can also prospect at professional trade fairs, dedicated to your sector of activity or profession, where you may be able to meet retailers. Regularly monitor the competition in vendor segments that correspond to your marketplace.
Out of all your identified prospects, compare the vendors in this data base to those in your existing data base to filter them and keep only new vendors.
It is essential to then rate and rank vendors by applying scoring rules according to the criteria defined earlier. The aim of this stage is to be able to determine which are more valuable to you and therefore should be contacted as a priority.
Establish priority vendors
As soon as you know which sellers to approach, find a way to contact them. To do so, you will need to gather all the basic information needed such as email address and phone number, as well as potentially additional information about the range of products sold, turnover, etc. To collect this data, consult the vendor's website and social media, especially LinkedIn, to find out who to contact in their teams. You can also call on external service providers to help you.
Add this information to your CRM platform
To track your vendor recruitment, add all the information gathered to your customer relationship management (CRM) platform. You will pitch many vendors who are not all at the same stage of your recruitment funnel. You will therefore need to manage separate different issues, languages and conversations. The CRM will allow you to track all exchanges and actions performed, and make this information available to all.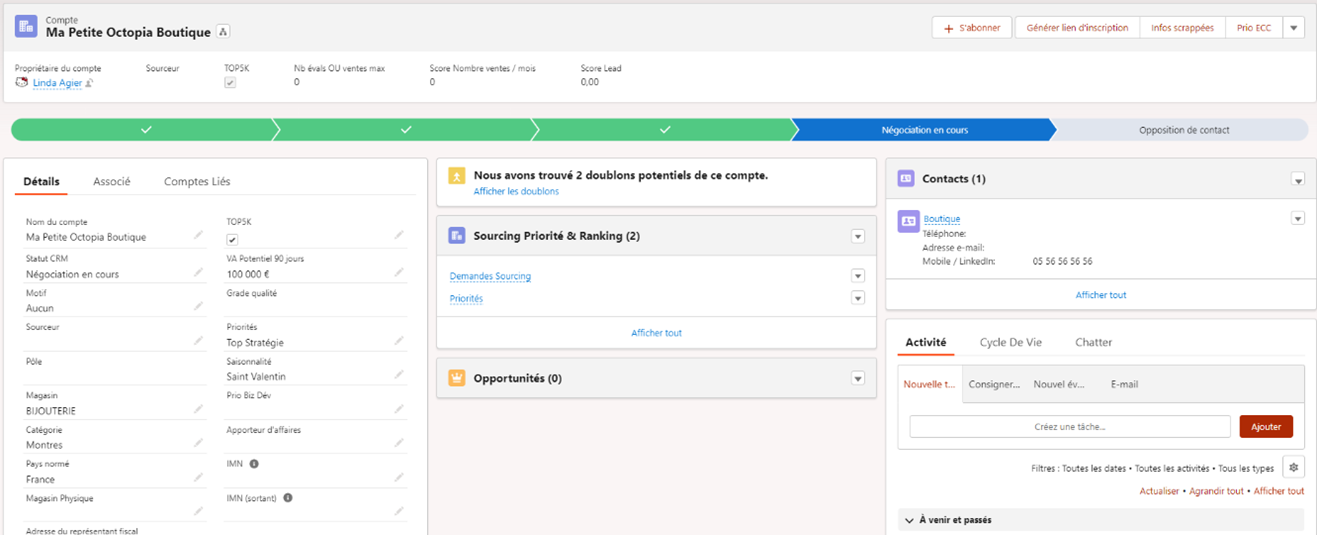 Write down information from calls, draw up minutes and plan future actions, like sending follow-up messages. Creating records for each vendor will allow you to precisely follow up and therefore facilitate the management of your vendors once they have joined your marketplace.
Stage 2: Recruiting vendors
Contact vendors
Once you have gathered this information, it is time to contact the vendors. Your teams will need to speak multiple languages. You may sometimes need to establish a team dedicated to a country or language, such as Chinese vendors who have specific challenges. The aim is to present your marketplace and customers to them. Prepare a presentation document with clear answers to their questions to convince them.
What categories of products do you sell? Which perform the best?
To which customers?
Via which pathway?
Vendors may also wish to know if your marketplace will offer them more visibility. Here are the questions that they might ask on this topic.
How many visitors come to your site each month?
How many active customers do you have?
What is the average cart value?
What is your site's growth?
What are the visibility solutions?
Prepare a presentation with key figures to show vendors the potential gross merchandise volume (GMV) that your marketplace could offer them: quantities of merchandise, sale prices, etc.
Also, anticipate any technological prerequisites. For example, if you are connected to a flow aggregator, emphasize how easily the flows from the vendor and your marketplace will be synchronized.
If you offer additional services, talk about them too. It may interest vendors to simplify the management of their operations:
Management of currencies, VAT and other taxes
Management of customer relations
Storage and/or delivery thanks to a fulfillment service
Etc.
Lastly, prepare yourself to answer questions about the rate of commission, how well-known the marketplace is, the time needed to become active, the onboarding process, and KYC support. How do you support vendors? For how long? Only during sign-up or to develop sales as well?
Decide on terms and conditions
While a model of commission based on sales is attractive to vendors, as they only pay for what they sell, on the other hand, a paid subscription model may be an impediment, as may be a very high rate of commission. Offer a promotional welcome package and potentially discounted rates on commission, subscription, logistics services or marketing monetization.
Of course, you are under no obligation, particularly for vendors who sign up automatically. However, it is strongly advised for your top target vendors that you wish to recruit at any cost. Once the vendor agrees to the terms and conditions, indicate the next steps for registration.
Conclusion
Finding and recruiting sellers that perfectly match your needs requires several steps that should not be neglected. Once the needs have been defined, potential sellers identified, priority sellers qualified and information inserted into the CRM, you should contact and negotiate with the sellers to convince them to join your marketplace.
After convincing the seller and defining the conditions of his integration, the registration is a crucial step in the process. This step must be simple and fluid to avoid demotivating or even losing the seller. Octopia gives you its advice for a simple and efficient onboarding in this article.