The creation of a marketplace is a commercial opportunity which requires significant investment by operators. Even if a marketplace shares similarities with an e-commerce site, there are fundamental differences to be taken into account when developing the business plan, more specifically in terms of overheads and revenues. In this context, the development of a realistic business plan is crucial to validating your profitability and understanding how to generate cash flows and create long-term value.
With more than 10 years' experience in marketplace operation, Octopia provides its expertise, advice and guidance in the development of your marketplace business plan.
If you would like to know more about the key steps to developing your marketplace business plan, keep reading!
Step 1: Forecast your GMV
The first step in the business plan is to define a potential GMV1, using various methods. We generally recommend you forecast your GMV estimations over 5 years.
Method 1: 'Top-down'
The first method to assess your potential GMV is the 'top-down' approach. You can assess the size of the market you operate in and allocate yourself a market share (target or real). You can also define the share of your e-commerce turnover which should come from your future marketplace.
Method 2: 'Bottom-up by offer'
The second method used to assess your potential GMV is the 'bottom-up' approach. Starting with a number of products (target or real), estimate an average GMV for each product and add together to obtain your total GMV.
Method 3: Marketing
It is also possible to estimate your Marketplace GMV using your marketing investments and traffic. You can define a marketing budget and the annual traffic derived from this budget. By applying an average conversion rate2 which is relevant to your sector, you can deduct a number of orders and potential GMV based on the average shopping cart.

Generally speaking, the more comprehensive the marketplace offer, the more your customers will see you as a one-stop shop, which will increase your traffic and conversions and thus your GMV. In order to offer your end customers a rich selection, you need to recruit a sufficient number of sellers, one of the keys to marketplace success.
Octopia recommends you combine several methods to assess your potential GMV, which will enable you to compare the coherence between models. It is also important to compare as much as possible the results of your methods with your current business results (if in existence) or the market benchmark (average cart, number of orders, conversion rate, traffic and marketing budget, etc.).
The next step of the business plan is to define marketplace turnover.
Step 2: Calculate your turnover
The net turnover corresponds to marketplace revenues after deduction of cancellations and product returns.
Revenues
Marketplace operators have several revenue sources:
Commission rates: This is the main source of marketplace revenue. The operator fixes a commission rate which will be levied for every sale made by a third-party seller. This rate generally varies between 5% and 25% per sale.
When launching your marketplace, Octopia recommends you fix a commission rate somewhat lower than the market to attract as many sellers as possible
Subscription: This is the amount paid on a monthly or annual basis by sellers to access the marketplace. Subscription fees are at the total discretion of the marketplace operator.
As with commission, subscription may serve as a means to enter a market. On launching your marketplace, you can choose to reduce this subscription or provide it for free to attract sellers and provide a comprehensive offer to satisfy your customers. The subscription can thus be added gradually as the marketplace matures to become a considerable portion of your revenues.
Monetization3 : This is the cost paid by sellers to the operator in exchange for financial services, credit lines, administrative services or visibility. This monetization varies between 0.1% and 2% of GMV. There is a direct link therefore between the number of sellers and turnover: the more sellers there are, the more monetization the operator can generate.
Monetization is a set of additional services provided at a later stage, when the marketplace is more mature.
Revenues thus depend on the number of sellers and the GMV, and have a direct impact on turnover.
Elements to deduct:
Once you have defined a gross turnover, you must deduct certain indicators in order to obtain your net turnover:
Cancellation rates: When the end customer decides to cancel their order before receiving the product. This rate is calculated as a percentage of the GMV and is defined on the basis of market studies.
Product return rate: When the end customer receives the product and returns it to the marketplace. This rate varies according to the market, business sector and country.
Deduct these ratios from your revenue to obtain your net turnover. The business plan is not complete until you have deducted overheads from this turnover.
Step 3: Identify your costs and investments
There are two main overheads to marketplace operation:
Marketing: Investing in marketing when launching the marketplace is crucial to enhancing your visibility. This cost varies from one marketplace to another, you can allocate a dedicated budget or a percentage of the GMV.
Octopia emphasizes the importance of calculating the marketing ROI to fine-tune your marketing strategy, i.e., how much every Euro invested will contribute to GMV.
Payroll: In addition to the standard payroll of an e-commerce site, launching your marketplace will imply the integration of new skill sets, particularly those linked to seller management. The two key tasks are sourcing and account management. Sourcing consists in identifying, contacting and onboarding sellers to your marketplace. Account management is the organization, management and retaining of your sellers to ensure their performance and avoid churn4. Octopia estimates that one person can source between 20 and 30 sellers per year and a second person can oversee account management for 20 to 35 sellers per year.
If you would like to benefit from our advice to on how to identify the right sellers for your needs, read our dedicated article
Additional overheads to marketplace operation:
PSP (cash-in / cash-out): This is the payment service provider, which is mandatory to carry out financial transactions on the marketplace. PSPs generally bill a fixed rate per order and a variable cost according to your GMV.
Customer relations: This is the cost of managing customer relations and after-sales service, etc. The marketplace operator plays an intermediary role between the sellers and the end customer. The operator must arbitrate in the event of a dispute and implement tools to enable seller-customer dialog. These after-sales overheads represent €0.30 to €0.60 on average per order.
IT running costs: These correspond to the hosting and licensing of the marketplace platform. The marketplace operator pays a one-off 'set-up' cost to launch the marketplace, followed by running costs corresponding to an annual subscription.
Launching a marketplace thus implies substantial costs, mainly related to seller management tasks. In addition to a base of 15,000 international sellers ready to join your marketplace, Octopia also offers to outsource your sourcing and account management, and thus their related costs.
Step 4: Analyze the bottom-line impact
Now that the top line and related costs have been assessed and aligned, it is time to examine the impacts on the bottom line. In other words, the analysis of the time to value of the project, the return on investment and the generation of cash flow. By working with Octopia, you can benefit from proactive result-based advice and thus ensure faster, more sustainable growth.
Conclusion
In conclusion, developing a business plan is a complex task which requires solid sources of information. Numerous marketplaces launched in the last 10 years have failed. While the marketplace model implies fewer fixed costs than a standard e-commerce model, the challenge lies in reaching an adequate critical mass to attract a sufficient number of qualitative sellers providing a wide and relevant range which will attract and satisfy more customers.
Octopia guides you through the development of your marketplace business plan. As a specialist in marketplace management for more than 10 years, Octopia has expert knowledge of the key factors for a prosperous marketplace.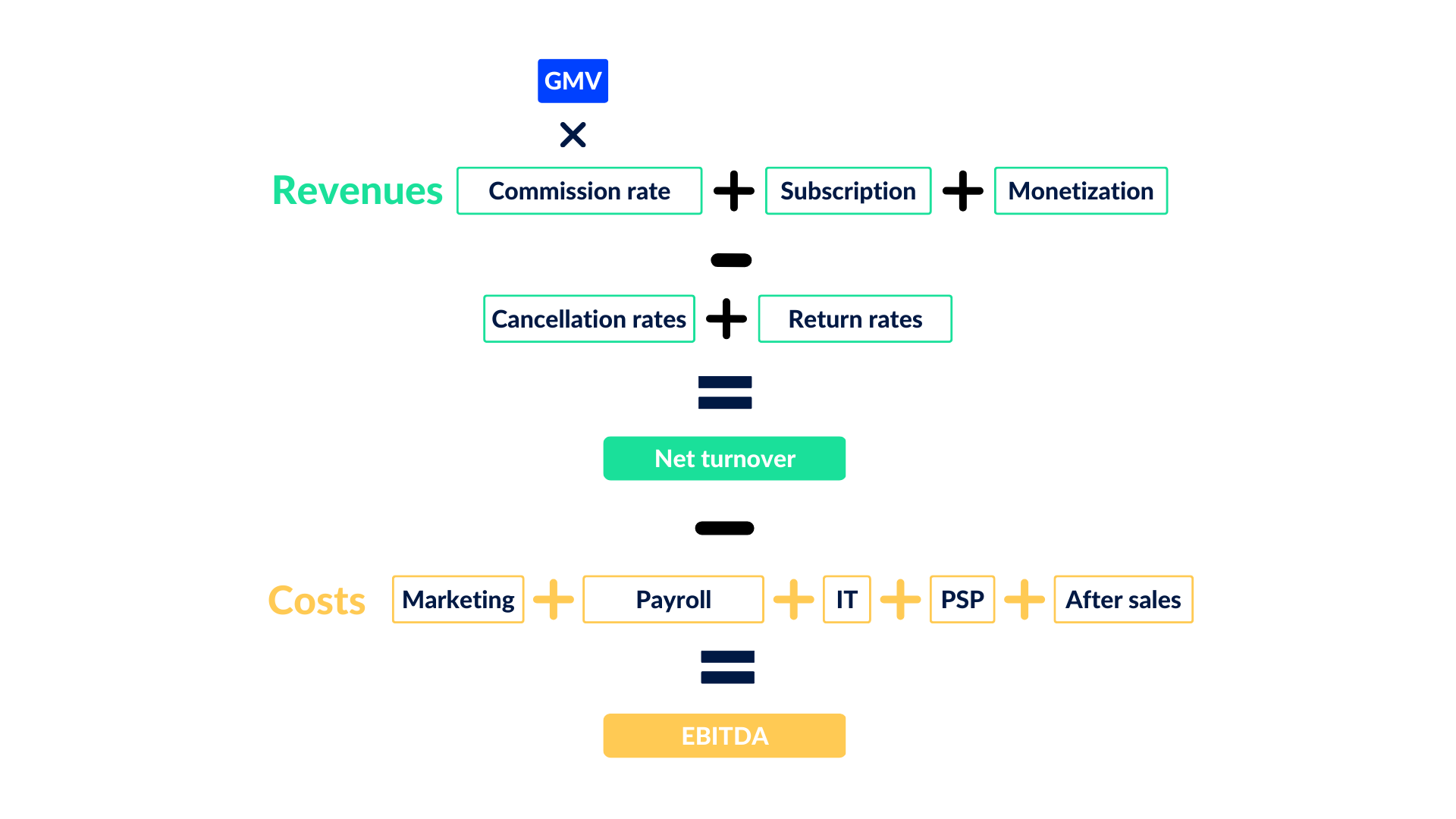 ---
GMV: Growth Merchandise Value represents the total value of goods sold by sellers for a given period on the marketplace, before deducting taxes and commissions.
Conversion or transformation rate: The percentage of online visitors who reach a certain objective, such as making a purchase.
Monetization: The type of remuneration which transforms an audience into revenue, by providing sellers with enhanced visibility of their offers.
Churn or attrition rate: In the context of the marketplace, this is the percentage of sellers leaving the marketplace definitively, either deliberately or due to their suspension by the marketplace.
EBITDA: earnings before interest, taxes, depreciation, and amortization,
---