Market Invaders partners with Octopia Fulfillment
Market Invaders, a leader in SaaS applications, joins forces with Octopia, the French expert in marketplace solutions, to become a key partner of one of France's major logistics players.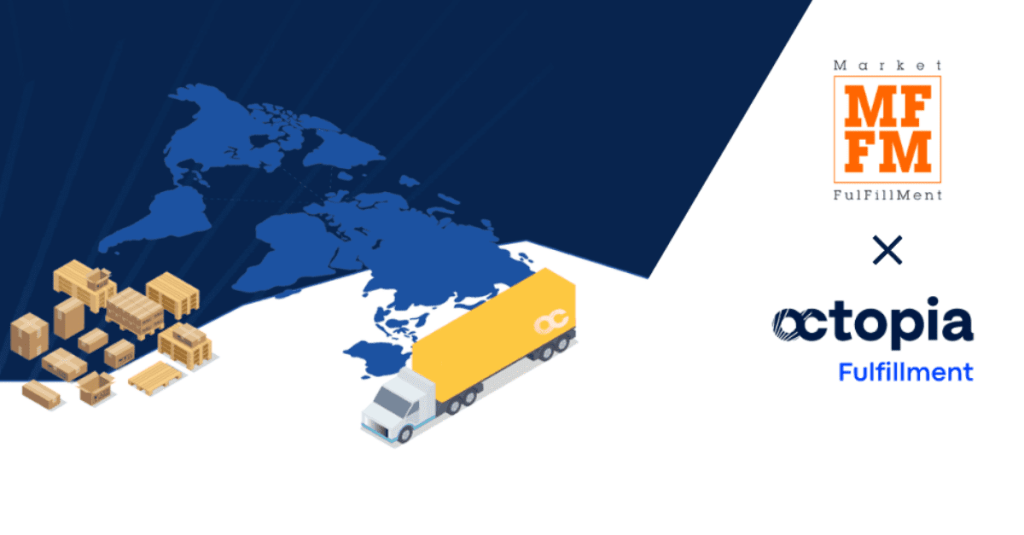 This project is the union of Octopia's logistics know-how and Market Invaders' seamless connectivity, resulting in the creation of the new Market Fulfillment tool, adding to Market Invaders' value proposition.  
With a growing number of sellers relying on its logistics service, Octopia Fulfillment confirms its ability to adapt and offer a complete, turnkey solution for managing their online sales.  Thanks to its SaaS technology, Market Invaders promises simplified connectivity, all while meeting expectations in terms of management and delivery of online orders, ensuring that the solution remains competitive within the market. 
 With this tool, sellers can now :  
Automate and centralise their orders from any marketplace or CMS, and seamlessly integrate them to the Octopia Fulfillment portal ;

 

Manage their offers across all sales channels from a single interface

Create virtual product bundles

 
In addition to synchronising their orders, this partnership ensures sellers untapped possibilities in other markets. Indeed, with warehouses in the UK and Spain, Octopia is excited to support its sellers in their e-commerce expansion with the help of Market Fulfillment, on both French and international marketplaces.  
When we funded our company, we were convinced that the future of e-commerce would be driven by the development and multiplication of the marketplaces model. The Market Invaders solution, which aggregates flow and connects to over 130 marketplaces, major carriers, ERP systems and merchant sites, already enables our customers to manage their entire e-commerce activity via a single tool. On the strength of this initial success, we and our long-standing partner Octopia decided to create the Market Fulfillment solution, enabling third-party sellers to simplify the outsourcing of their logistics in record time!

The aim of the application is simple: to centralise all orders from all distribution channels (merchant sites and marketplaces) via a single interface, and transmit them to Octopia for fulfillment. This partnership, combining Octopia's logistical expertise and Market Fulfillment's technological innovation, guarantees a smooth and optimal functioning of the e-commerce circuit.
Vincent Oger, CEO, Market Invaders  
About Octopia:
---
Octopia is a complete marketplace ecosystem, integrating a unique combination of cutting-edge technology, a qualified seller base and a native Fulfillment logistics solution. Octopia offers personalized support for creating your marketplace, connecting with top sellers, selling on new sales channels or outsourcing your logistics. Thanks to its advanced business expertise, Octopia connects perfectly matched sellers and marketplaces.   
The Fulfillment solution manages all logistics activities: storage, packaging, preparation and delivery in over 21 countries. Taking charge of the entire logistics process on behalf of sellers saves time, allowing customers to concentrate on their business.  
 Over 600,000 m² of warehouse space 

 

Deliveries to over 20 European countries 

 

Real-time stock management from a single platform 

Continuous support at every stage from a team of experts 

 

Market-competitive rate

About Market Invaders:
---
Market Invaders is a SaaS (online) application that helps brands and retailers achieve double-digit sales growth in France and abroad. Key features include: centralised inventory, ads and orders, automatic pricing based on the competition, easy creation of product packs (with fine-tuned management of associated stocks), compatibility management for spare parts and product accessories, automatic catalogue translation, connection with major logistics players… Thanks to its technology and tailor-made support with dedicated account managers, sellers achieve the best publication rates. Several tens of millions of euros are generated every year via the Market Invaders solution.