In a complex market such as that of marketplace software solutions, the pre-sale phase allows us to analyze, understand and meet customers' business and technological needs.
To ensure optimal management of this phase, Octopia customers receive guidance from a multi-disciplinary pre-sale support team of Sales & Business Consultants and Solution Engineers. The team's aim is to share their knowledge of the various keys to marketplace success.
This joint "acculturation" task is a must for the pre-sale triad, which is wholly committed to defining customers' opportunities and business advantages.
The Solution Engineering team acts as the liaison between the solution and the customers. Its main goal is to simplify the presentation of the technology for future users and enable customers to discover, test and try out the solution in a practical context.
To this end, they create workshops dedicated to each customer profile and customize solution demonstrations by guiding discussions around user processes.
GOOD TO KNOW
What are the three customer types the Solution Engineering team deals with?
Customers wishing to launch a marketplace project ex-nihilo, with no existing foundation.
E-retailers seeking to open a marketplace to add to and/or challenge their ranges.
Existing marketplaces looking to change solutions and/or recruit more sellers.
What is the role of the Solution Engineering team in the pre-sale phase?
Our role is, of course, to be perceived by our customers as a "Trusted Advisor", thanks to a tailored approach built on three key focuses:
1- Simplifying the technical functions of the solution
The Solution Engineering team deals with a range of customer profiles with varying degrees of marketplace expertise.Whether we are talking to e-commerce, marketing, procurement or IT teams, the aim is always to adapt our service to that audience and provide an answer to all their questions.To cover the whole scope of technical functionalities, we work directly with the product teams developing the solution.
2- Sharing market knowledge and data
At Octopia, the Solution Engineering team monitors the sector constantly to detect new trends and market innovations.All our team members are experts in e-commerce / marketplace solutions (Front, PSP, CRM, PIM, etc.), and their complementarity and integration in an existing IS.The Solution Engineering team shares the market's best practices with customers and ensures the technical feasibility of the project.
For example, the team defines complex scenarios and offers recommendations for the best solution: best offer vs. buy-box, API asynchronous carts, seller compliance process, services for customer-seller message management, and more.
3- Guiding the discovery of the solution
The Solution Engineering team begins every project with an analysis of each customer's needs and their IS environment.Based on this analysis, the Solution Engineering team customizes demonstrations around user-specific scenarios, illustrating how the solution meets their practical requirements.For more complex projects requiring additional support, the Solution Engineering team organizes tailor-made "FocusOn" training workshops.
Possible workshop themes: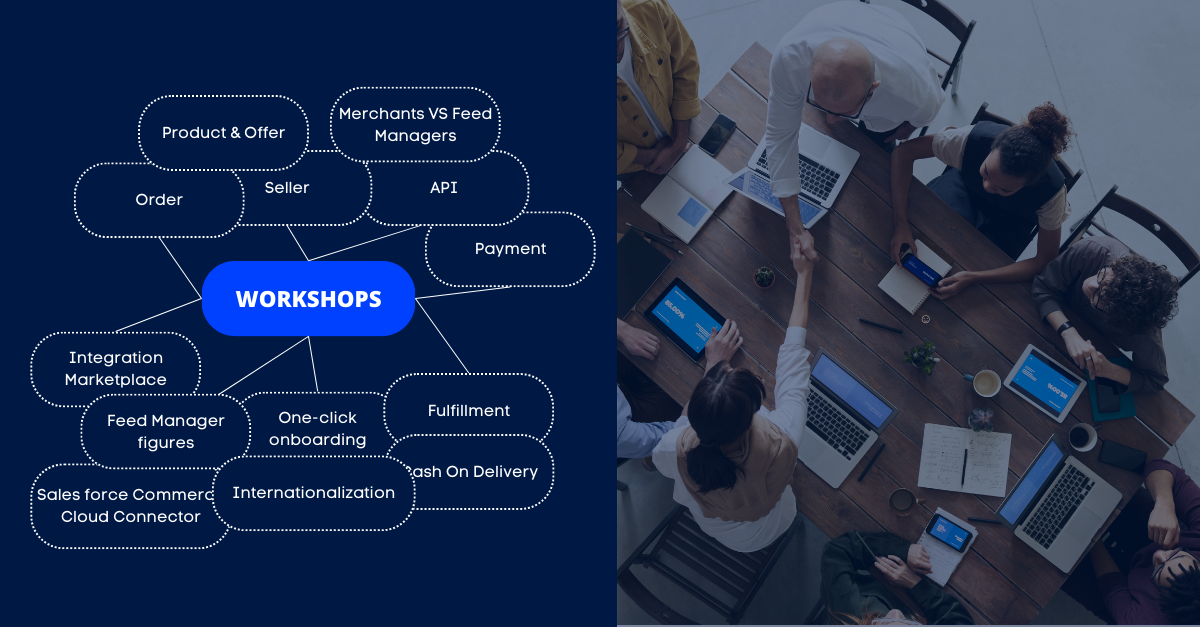 "The stand-out aspects that I discovered in Octopia's pre-sale method are the monitored training approach, the quality of support exchange and the teams' unfailing commitment.

In conclusion, having customers thank us for understanding their challenges and meeting their needs is what motivates me every day!"

Marc-Antoine Cailloux, Solution Engineer at OCTOPIA
CONCLUSION
In short, the Solution Engineering team provides maximum support to marketplace operators in the technical and functional design of their marketplace project in order to optimize the project's time-to-market.
Do you have a project? Get in touch with us, our experts will be delighted to guide you.